THE PEAK: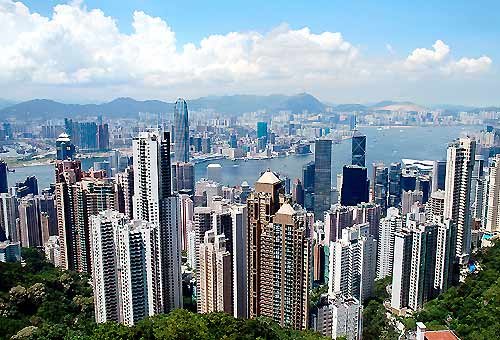 There's a reason why The Peak is one of the most popular attractions in Hong Kong: It is absolutely incredible! Looking down from The Peak you'll be amazed by the spectacular view of the surrounding city skyline, the world-famous Victoria Harbour and Kowloon, towering skyscrapers and peaceful green hillsides.
Getting there is an unforgettable trip. There's nothing in the world like the Peak Tram. Pulled by steel cables, the tram climbs 373 metres (about 1,200 feet). It's so steep that the buildings you pass look like they're leaning! Whether you're going up or coming down, you'll love this trip.
And now this fabulous vista has been further enhanced by the 2006 revitalisation of one of Hong Kong's most striking landmarks, The Peak Tower. Even more than before, it's a destination in its own right.
Once on The Peak, there are a number of locations providing magnificent views of the city below. For great continuous unfolding vistas, take the Peak Circle Walk or go directly to the Lugard Road Lookout for fabulous views over the harbour. There are more great vistas from the Lions View Point Pavilion and the viewing terrace at the
Peak Galleria, as well as the Peak Tower Sky Terrace.
Be sure to visit Madame Tussauds
Hong Kong
, open from 10am to 10pm daily, for an engrossing interactive entertainment experience!
A SYMPHONY OF LIGHTS:
This spectacular multimedia display, already named the 'World's Largest Permanent Light and Sound Show' by Guinness World Records, has been further expanded to include more than 40 buildings on both sides of Victoria Harbour. The show creates an all-round vision of coloured lights, laser beams and searchlights performing a stunning, unforgettable spectacle synchronised to music and narration that celebrates the energy, spirit and diversity of Hong Kong.
There are five main themes — Awakening, Energy, Heritage, Partnership and the finale, Celebration.
A symphony of Light is for free public enjoyment. No admission tickiet is required.
For the best view of A Symphony of Lights, take a harbour cruise or head to the waterfront promenades on either side of Victoria Harbour*. The show, organised by the Tourism Commission, is a must-see event on any visit to Hong Kong.
THE GIANT BUDDHA:
No trip to Hong Kong would be complete without a visit to the Giant Buddha which sits serenely atop Ngong Ping plateau amid the spectacular mountain scenery of Lantau Island.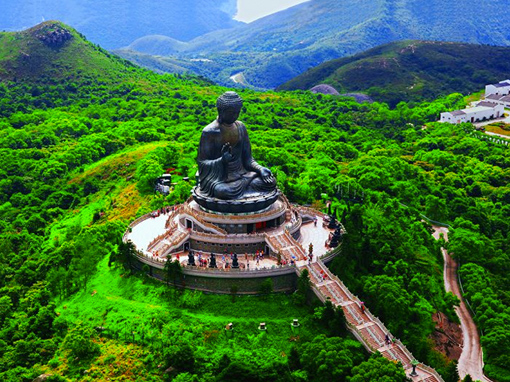 The eyes, lips, incline of the head and even the right hand (raised to deliver a blessing to all), combine to lend great depth of character and dignity to this extraordinary statue.The majestic figure of the seated Buddha was cast in China and took 12 years to complete. It was unveiled in December 1993 amid deeply religious ceremonies.Visitors can climb more than 200 steps to reach the platform where the Buddha is seated.Besides attracting Buddhists from all over Asia, the magnificent figure with its compelling presence almost instantly transformed the remote Po Lin Monastery with its devout monks into a must-visit on tourist schedules.The Po Lin Monastery is set amid spectacular mountain scenery on the Ngong Ping plateau. Po Lin Monastery it's a short walk to the Wisdom Path, an outdoor replica of the centuries old Heart Sutra, one of the world's best-known prayers that is revered by Confucians, Buddhists and Taoists alike. The sutra is displayed on wooden pillars placed in the form of a figure "∞" to symbolise the idea of immeasurable splendour and infinity.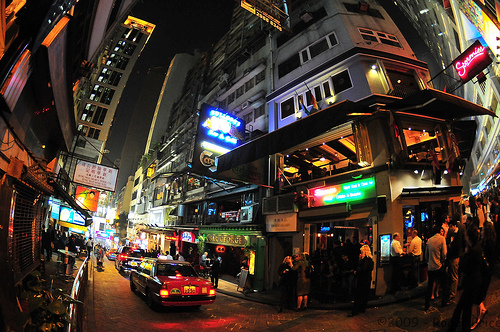 When the lights go down, the "in crowd" heads for Lan Kwai Fong, a buzzing centre of clubs, bars and restaurants. This cheerful warren of Western-style restaurants, nightclubs, delicatessens and bars is a must for night owls and people watchers. Lan Kwai Fong is an L-shaped, cobble-stoned lane surrounded by Central's cluster of skyscrapers. Nearby lanes are also buzzing with bistros and pubs in Hong Kong's trendiest nightlife area.
SOHO
Stroll along nearby Hollywood Road and you'll soon discover Hong Kong's "SoHo", the area "South of Hollywood Road". It offers a wide range of upmarket international restaurants and bars along Staunton Street, Elgin Street and Shelley Street. Jump on what Guinness World Records calls the world's longest covered escalator and experience the cosmopolitan atmosphere of this popular food district. Here you'll enjoy international fare from New Orleans to Nepal, Mexico to Malaysia, Provence to Portugal.
Feel like dinner amidst the sumptuous surroundings of a Chinese palace? Welcome to the Jumbo Kingdom, one of Hong Kong's truly unique attractions. Since its opening in 1976 as the Jumbo Floating Restaurant, it has excelled in the preparation of seafood for discerning diners. The restaurant, designed like a classic Chinese palace, can accommodate up to 2,300 people. Situated in Aberdeen harbour, the Jumbo is one of the world's largest floating restaurants and an iconic tourist landmark of Hong Kong.
JUMBO KINGDOM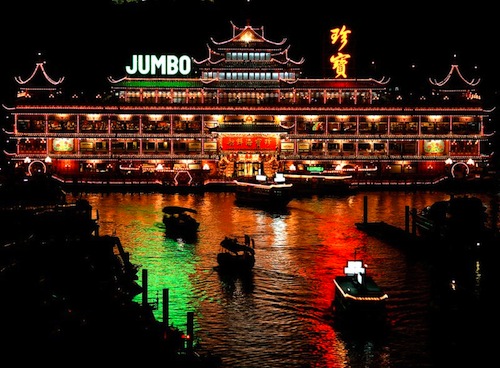 The multifaceted Jumbo Kingdom also has a "six-star" gourmet restaurant, which provides excellent quality food featuring traditional Chinese and modern fusion dishes, as well as a tea garden. Bus 70 from Exchange Square bus terminus (MTR Hong Kong Station Exit D) to Aberdeen terminus. Cross highway via subway (pedestrian tunnel), turn right, walk to dock for free boat ride to floating restaurant or take bus 75 from Exchange Square bus terminus to Shum Wan Shuttle Ferry Pier for the free boat ride.