Costa Rica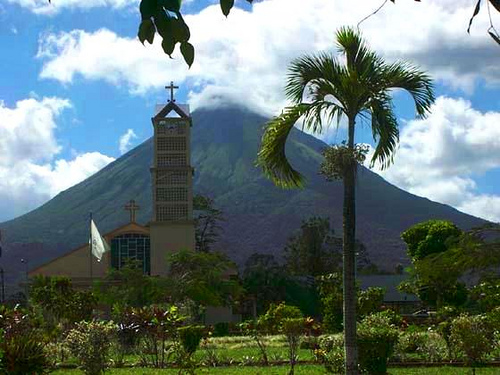 Costa Rica is an amazing country of unsurpassed beauty and wondrous diversity. Many endearingly call it the "Swiss Alps of Central America". The country is comprised of lush rain forests which are teaming with exotic wildlife and a wealth of biodiversity. Towering mountain ranges ascend high into the clouds. Active volcanoes remind us of Mother Nature's ever changing plan. Palm studded beaches stretch hundreds of miles along both the east and west coast, where one can walk miles before seeing another soul.
Costa Rica is your gateway to tropical paradise! A place where you can come to learn all about this beautiful country, friendly people, amazing wildlife, thrilling adventures, and all around extraordinary diversity. It is our hope that with this blog you will be able to plan your trip with confidence by making informed decisions based on the latest and most accurate information. Our goal is to provide this in a fun and informative way. We hope that you enjoy what you read as much as we enjoy sharing it!
Just imagine…You are already on your Costa Rica vacation.  You wake to the primitive howl of a Congo Monkey as he makes claim to his territory.  As you go out to the balcony for a look, you can hear the ever playful chatter of parrots in the distance.  The chatter fades away as a small wave gently rolls into the white sands of the palm studded beach.  You enjoy a delicious cup of Costa Rican coffee on your ocean view balcony and it occurs to you that just a day before you were equally mesmerized by the smoke plumes rolling out of the magnificent Arenal Volcano.….
Costa Rica is an amazingly diverse country of vast contrasts and unrivaled beauty! Nearly 28 percent of the country's 51,000 sq. km is protected in the form of national parks, wildlife refuges and reserves. Within these parks and reserves there are 12 unique climate and life zones which are sandwiched between the Caribbean Sea and Pacific Ocean and then crossed by the Ring of Fire. The varied terrain, climate and habitats create a plethora of Costa Rica attractions that will amaze even the most seasoned traveler. Uncover hidden treasures such as the Rio Celeste Waterfall, which is regarded as one of the most beautiful waterfalls in the world. Learn about stunning beach areas such as Manuel Antonio where one can observe parrots and monkeys while catching some rays on palm studded beaches.
A Few Recommended Sites To See While There:
Tree of Life…
The Tree of Life tour is located in the southern zone of Costa Rica between Dominical and San Isidro del General. The property is comprised of hundreds of acres of primary rainforest and cloud forest that stretch from the Pacific Ocean to the summit of the Tinamaste Mountains at 3,300 feet in elevation. This mountain range is a vital watershed to the Baru River, which originates in the mountains with a number of spectacular waterfalls, including the magnificent Diamante Falls, which are 600 feet tall.
The hike up to the camp area is quite strenuous, but stops are made along the way to learn about medicinal plants and the land. After a couple hours of hiking, the jungle opens to an amazingly beautiful double waterfall that is approximately 150 feet high. As you walk in, you will notice a cave tucked in behind the waterfalls with a stone walkway leading to the entrance.
The Tree of Life tour company has furnished the cave with everything needed for survival including a fully functioning kitchen, bathrooms, showers and rough bedding. A night in this cave is a moment in time that will never be forgotten!
To fill the time, one can hike to the various waterfalls, explore the jungle or even rappel down the falls. There is a waterfall and pool area within an hour hike that is great for cliff jumping or just swimming in cool, fresh water surrounded by cloud forest.
Volcan Turrialba National Park…
Turrialba Volcano National Park is located in the Cartago Province and encompasses over 3,900 acres of land. The park was established in 1955 to preserve the volcano and the vegetation that surrounds it. This volcano hasn't had a major eruption since the 1800s, but visitors are often able to witness volcanic activity via stream, smoke and ash bursts.
There are well marked trails throughout Turrialba Volcano National Park that lead visitors to several gorgeous lookout points. The trails lead through the primary and secondary forest that are full of wildlife and flora that can be easily sighted out by a guide. Visitors have the option to embark the hike either by foot or by horseback. During these hikes and rides, visitors will also be able to observe the markings of lava flows from the former eruptions in the 1800s.
Many consider the Central Valley to be the most comfortable climate in the world with temperatures usually hovering in the upper 70s during the day and lower 60s at night. The rain season here runs from May through November, though the heavy rains are generally during September and October. Visitors should pack shorts, tee shirts, appropriate shoes, rain gear, sun block. It is also advised to bring at least one pair of pants and a long sleeve shirt.
Costa Rica Adventure:
Looking for an adventure? Look no further! Costa Rica is the adventure capital of Central America. Tours aside, just driving the roads can be adventurous due to the amazing scenery and mountainous, windy terrain. This article is not about the roads though as there is plenty more to talk about when discussing Costa Rica adventure. There is a reason that there are so many options and this is due to location and geography. The country is located between the Caribbean and Pacific with plenty of mountains, volcanoes and rainforest in between. This creates a varied terrain with plenty of options close at hand.
Water Adventures:  Whitewater Rafting, Kayaking,Tubing, Snorkeling, Scuba Diving
Land Adventures: Canopy Zipline, Waterfall Rappelling, Hiking, Cave Exploration, ATV Riding.
Costa Rica Restaurants:
One of the questions we receive most from travelers is which Costa Rica restaurants we recommend. The answer really depends on your destination, taste in cuisine and desired atmosphere. To help you in your travels, we have created a database of recommendable restaurants in the more popular destinations. The restaurants we have selected are based on client reviews as well as our own experiences.
Café Viejo -
Style: Café
Location: Puerto Viejo Downtown
Café Viejo is located in a busy section of town with cars driving right by, but has good food such as pizza, seafood and pastas at a reasonable price.
La Pecora Nera
Style: Italian
Location: Playa Cocles near Le Cameleon
La Pecora Nera is an open air restaurant with a great Italian menu complimented by daily specials.
Cha Cha Cha
Style: International
Location: Cahuita Downtown
Cha Cha Cha serves up fresh seafood and dishes of Thai and Mediterranean influence.
Ginger Restaurant
Style: Tapas – Fusion
Location: Main road to Playa Hermosa, across from the road to the beach area. 100 meters up on hillside.
Ginger Restaurant features modern design with eclectic international themed tapas.