Follow our Travels on Twitter—>> Follow @JetsetterTours
//
Also on Facebook–>
Any time of year, rain or shine, you're spoilt for choice in Phuket. With an abundance of beaches, parks and forests to explore, a rich history and culture to discover, and fantastic dining and nightlife choices, the only thing you'll find lacking is the time to see all that the island has to offer.
The range of activities in Phuket continues to grow in sophistication and variety, offering visitors of all budgets, tastes, ages and abilities something to enjoy.
Full Day Phi Phi Island Tour by Speedboat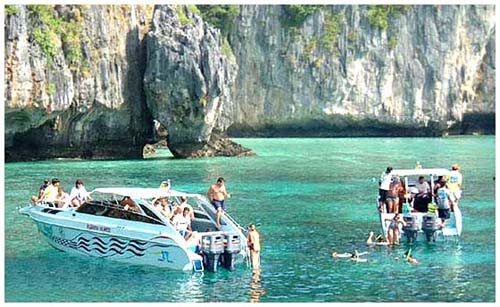 Our Number One tour gets you away from it all to one of the world's most beautiful islands and its surroundings in a matter of minutes. While everyone else is on their way to Phi Phi you're already there, island hopping, dropping in on the monkeys at Ao Ling, snorkeling the crystal clear waters in Hin Klang, and enjoying a fabulous lunch buffet on Phi Phi Island itself.
After lunch relax for an hour of two, get some shopping in and then check out beautiful Maya Bay, where 'The Beach' was filmed and also where tropical fish swarm around you as you swim among them.
Sea Kayaking – Phang Nga Hong by Starlight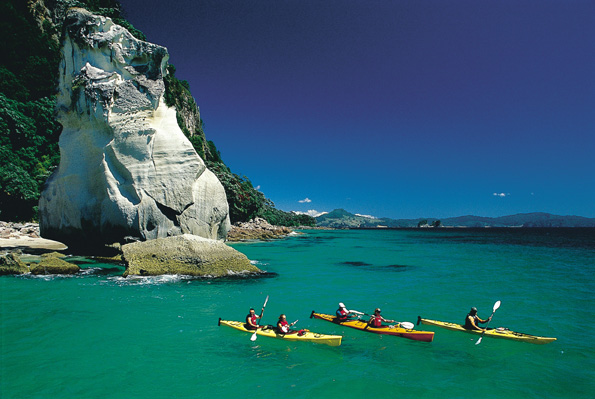 The best of both worlds; Phang Nga Bay is rated tops in the 'Wow' factor by day but just imagine exploring it by night… Head off after lunch to discover the unforgettable sights of this scenic wonderland.
Dine on board your 'mother ship' and as the sun goes down paddle silently into the 'hongs' or caves of this magic domain and discover just what Mother Nature gets up to by night. Access to these hongs is only possible at certain levels of the tide so put yourself into the experienced hands of John 'Caveman' Gray and take it all in.

The watery arteries of lush Phang Nga Province, just north of Phuket, gush down from the mountains from June to November each year and this is when you can experience the thrill of your life by whitewater rafting.
Everyone knows that elephants are gentle creatures and what better way to get to know them than by gently riding through the jungle on the back of one? You'll be amazed just how dainty a powerful pachyderm can be!

What's better than learning fascinating facts? Learning fascinating facts while having loads of adventurous fun, that's what. Zoom through the jungle, along beaches, through mud puddles while learning about the flora and fauna of Phuket. Experienced guides stop at key locations and point out unusual and interesting facets of wildlife on Phuket.
The great thing about this tour is that although it's top-drawer adventure, it's very well thought out and absolutely safe as houses so take the kids along and discover more in a few hours than in days of reading about the jungle.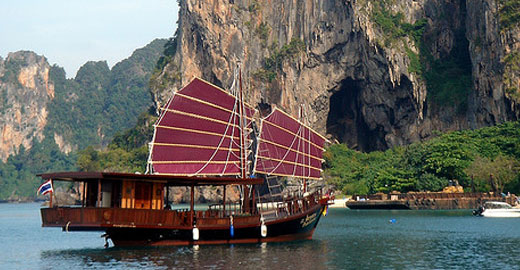 This tour comprises good food, fantastic seascape and leisurely cruising; surely the hottest recipe going for a great day out. There are several ways to visit the majesty of Phang Nga Bay but this, cruising in a genuine Chinese junk, is the most laid back and idyllic way.
Visit a sea gypsy village perched above the water on stilts at the top of the bay, check out the 'Man with the Golden Gun's' lair at James Bond Island and take in some of the most impressive rock formations in the world. All this and a delicious Thai buffet, too. Superb.

Khao Sok Overnight Eco Tours, Elephant Hills Luxury Safari Tents – combining the camp idea of African national parks with Thai tropical forest environment.
Various activities are offered on Elephant Hills: From the scenic canoe trip on the Sok River, to a ride on an elephant through the forest, to various trekking routes that can match all skill levels – the camp is the perfect base to meet the unique and natural treasure.
Follow our Travels on Twitter—>> Follow @JetsetterTours
//
Also on Facebook–>